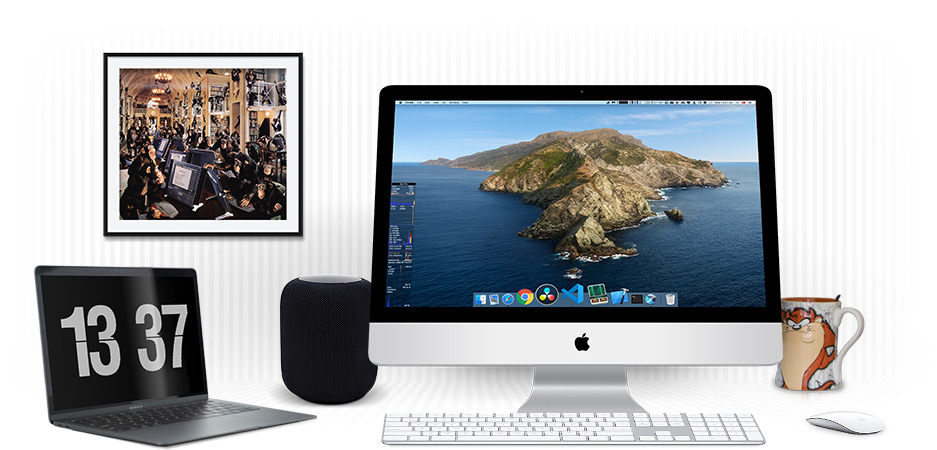 Our favorite apps are the ones that help us
We love helpful apps! But we love helpful creatively designed and beautiful apps even more. Anyone can slap a tool together in Xcode, but few also think about the user-experience. Thankfully an increasing number of developers view a creative and beautiful interface as a valued part of the app.
Not affiliated
All these apps are just apps we like. We do not get paid to indorse any of these apps or their developers. We just want to spread the word about these great apps, and hope they can help you as much as they helped us. :)
Heartbeat

XRG
Gaucho Software might be a 1-man-show, but he does make our most useful app! XRG (X Resource Graph) essentially displaying the heartbeat of your Mac in one simple configurable window.
This is the first app we install when ever we (re)install a new MacOS. It clearly display all the wanted stats of the Mac while we work or play. Though it's free, we do recommend donating him a few bucks for a job well done and for the many quick updates!Devs @ MacX
Maintenance

CleanMyMacX
The people at MacPaw.com made this excellent cleaning and maintenance app. The best on the marked - if you ask us! We use it to: Reclaim space, Update and Uninstall apps, Remove malware, Manage extensions, Securely shred sensitive files and more.
CleanMyMac X replaces dozens of optimization tools for Mac. It can be anything you tell it to be: a macOS cleaner, a performance monitor, a malware remover, and well, a life saver.MacPaw.com
Access control

Little Snitch
If you are like us and want to see what data apps are sending "Behind the curtain", then Little Snitch from Objective Development Software GmbH is the app for you!
The 2nd app we install on our Macs! We are not paranoid, but we do like to know what data is transmitted and to that sites. Little Snitch has been our trusted companion working in the background for years, only to alert us if a new connection are being established without our prior concent. Little Snitch lets us set up "Rules" for each app and to view all communications on a big world map.Devs @ MacX
Repair and Diagnostics

Drive Genius
Drive Genius version 5 automates the monitoring for you and gives you total control over your hard drive. There are 18 powerful features that are available to you in the comfort of your own home and with a peace of mind that your Mac system is protected.
It is not pompous to call your own app "genius" when it actually is genius! (well... more clever than other hard disk maintenance tools we know of)
It just works in the background and alert you if there are an issue you need to resolve. It has all the needed tools to check and repair your drives.Devs @ MacX
macOS Enhancements

NTFS for Mac
Microsoft NTFS is one of the primary file systems of Windows. If you work on a Mac computer and need to read or write files from HDD, SSD or a flash drive formatted under Windows, you need Microsoft NTFS for Mac by Paragon Software. Write, edit, copy, move and delete files on Microsoft NTFS volumes from your Mac! Fast, seamless, easy to use. Mount, unmount, verify, format or set any of your Microsoft NTFS volumes as a startup drive.
Paragon Technologie GmbH. has created a wide range of tools to enhance the macOS, but our most used tool is 'NTFS for Mac' – This allows us to store files directly on NTFS formatted drives – normally not allowed natively on a Mac (due to screwy legal license restrictions from Microsoft).Devs @ MacX
Backup and Recovery

Data Rescue
Admit it!... You did at sometime in the past (accidentally) delete an important file, right? (and cried silently inside). Yeah, We did too! But we had Data Rescue installed, so the whimpering was short.
We use Data Rescue from ProSoft Engineering, inc. to recovering 'lost' files from any drive. The UI is simple and easy to understand. This apps does exactly what it is named – Rescues your Data!Devs @ MacX
Media download and transcoding

Downie
Charlie Monroe Software just made the hassle of downloading videos from most sites a great deal easier - stylishly too! Supporting numerous websites and formats.
Yes, we know that we really should leave videos online for the content-makers to get their hard earned hits (99.999% of the time we do). But sometimes you just want to ensure you got a copy, so if the video is removed/censored, you have it archived. Or maybe you want a copy for offline listen/viewing on that 12h flight to the paradise island you where planing. Downie does this perfectly with minimal hassle.Devs @ MacX
Finder work

CopeQueue
CopyQueue is a utility for managing file transfers. Copy multiple files faster than OS X, pause and resume file transfers, schedule tasks and more.
Copying or moving many files to different folders in the Finder is tiresome work. Curio Software made that fun and easy again! Being able to resume/restart failed items in queue after the other files has been copied/moved successfully is a treasured feature!Devs @ MacX
Settings

Onyx
This long-lived app has just about all MacOS configurable setting ready in its GUI for tweaking. Onyx has been updated along with every version of MacOS since Jaguar!
OnyX is a multifunction utility for macOS that you can use to verify the startup disk and the structure of its system files, to run miscellaneous tasks of cleaning and computer maintenance, to configure some hidden parameters of many of Apple's applications, and more.Devs @ Titanium Software
Website maintenance

goPanel
goPanel offers complete system administrator capabilities, making it easy to install and configure Apache or Nginx, PHP, MySQL, FTP, domains, Free SSL certs, 3rd Party Scripts and email services on an unlimited number of servers, all via an easy to use native OS X interface.
This is absolutely the best VPS managing software I have ever used. Great for adding domains. Fantastic control of the server. Free Let's Encrypted SSL certificates at a click of a button. Well Done.Mike Perks
Media playback

IINA
Powered by the open source media player mpv, IINA can play almost every media file you have. Written in the Swift programming language, IINA is free and open-sourced under the GPLv3 license.
Our old media player needed upgrading when we migrated to Catalina, but then we found IINA (and haven't looked back since). It plays all our files and has a ton of settings. Oh and it's free!Devs @ MacX
Video editing and mastering

DaVinci Resolve
Long being an option to Adobe Premiere, Apples Final Cut Pro and Media Composer from Avid, DaVinci Resolve is now a free (yet fully working and extensively featured) version of the full Studio media-editing software from Blackmagic Design.
DaVinci Resolve is light weight enough to run on any of our MacBooks, yet still powerful enough to handle all our video-editing needs. We have no space for big editing-panels and sound studios. Table, laptop, headsets, done! (table is optional)Devs @ MacX
More Apps
If you are like us, and like to test new apps, try some of these below. We use all and can recommend them highly. (In no particular order) "Can has apps?!" – Dev @ MacX
All information on this page expires: Yesterday