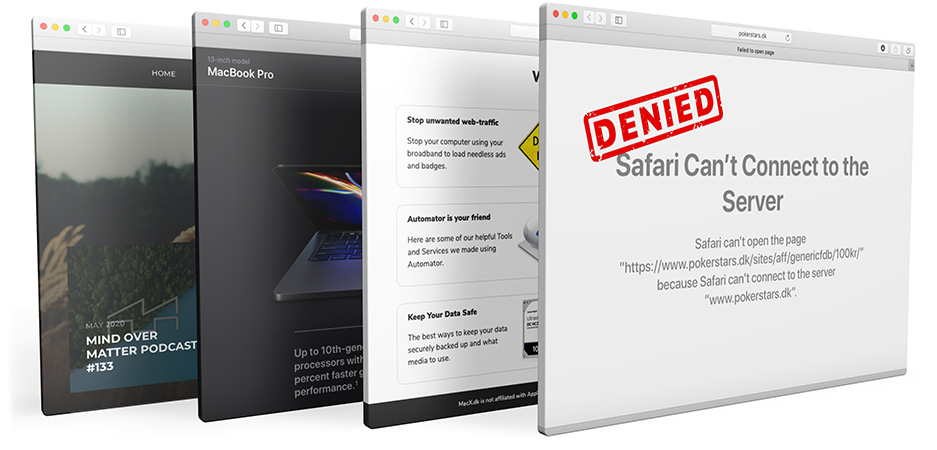 Do not waste your broadband on needless downloads
Every time you browse on the Internets* using your favorite web-browser, you are using a lot of your broadband for loading ads, tracking-scripts and images from 3rd-party domains. But you can stop this! - and get back the speed you want for browsing the websites you like.* Yes, plural :) Just Google it!
With the scripts below you can block domains that serve ads and other unwanted web-content. This will eventually result in faster browsing, mainly because your browser are not allowed to access these domains and there by not having to load the ads, scripts, Flash movies or big images from the blocked sites. You can even block the ads within YouTube movies (some geeking and ninja-trickery may be required).

These scripts are ideal for Parental Control. Attempting to access a blocked website simply result in a blank page, a missing image or an error message. As these script require administrative credentials, children can not remove the blocks, disable the ad-blocking extension or install a new web-browser without an ad-blocking extension. All web-traffic to the blocked domains is denied by the OS. Not even other apps or system tools are allowed to access the domains.

Note: If the unwanted web-service does not have a domain name, but only an IP-number, you can not use this kind of blocking. You should block it via the build-in Firewall (Windows), via the Network-settings (Mac), or if possible in your Internet-Router's configuration.
How it works
The hosts-file is a part of the base-system of most modern computers operating system (OS) and deal with the computers "translation" from URLs to IP-address (DNS) when accessing the Internets. Normally this are done via your Internet Service Provider's DNS-servers, but you can bypass this request by editing the hosts-file – essentially telling your browser to load the content from another server. When the content can not be found at the new location (your localhost) the browser skips the loading of the content.
How to do
These scripts should only be used by trained administrators who know what they are doing... wait... that might exclude you... DOH! Just use with caution, ok?
Examples of domains to block
google-analytics.com
googlesyndication.com
ads.bluelithium.com
content.yieldmanager.edgesuite.net
rd.revolvermaps.com
rf.revolvermaps.com
www.addtoany.com
static.addtoany.com
www.mybrowserbar.com
download.mybrowserbar.com
fastclick.net
click.linksynergy.com
doubleclick.net
doubleclick.com
static.doubleclick.net
valueclick.com
ads.trafficjunky.net
a2.mediagra.com
syndication.exoclick.com
prestigecasino.com
fixmymacos.com
cdn.taboola.com
popup.taboola.com
www.facebook.com
sum.pr0nsite.com
FAQ
How do I find what domain to block?
You can search the source code of the website with the web-content you like to block. Then locate the url where the content originate and block this (with out http:// or the trailing /images/bla-bla-bla). Web-browsers with a "Web-Inspector" or "Developer Tool" may be also useful in this process (often located in the ... menu or contextual menu as "Inspect"). Locate the different loaded components of the webpage in the "Network" or "Sources" section of the Web-Inspector. This will show you the domain to block next to the file.
I blocked facebook.com but it still loads.
Blocking facebook.com will still allow content from www.facebook.com to load. These are 2 different domains in the eyes of the hosts file. The prefix www is the subdomain that, if omitted in the URL, will for most web-servers be used by default. Sometimes websites use www2 or mobile as subdomain to display a customized or localized version of the website. So in order to completely block a website, all or the main subdomains also needs to be blocked.
Just look in the URL when browsing the site and write down all the URLs, then block each (without https:// and all after the first / (the slash included):
https://www.facebook.com/
https://www.facebook.com/r.php?locale=en_US
https://de-de.facebook.com/legal/terms/update
My browser will no longer load webpages. What did you do?
I reconfigured your intermittent browser cooling with a flange-extender and duct tape. You need to restart your computer.
I restarted my computer, but my browser will still not load webpages?
Did you try to reinstall the system software?
After reinstalling the system software, the websites previously blocked can again be accessed. Why did you remove the blocks?
You will find the answer here: The answer to every computer problem
If you think your life empty and you use too much time behind the screen, then let Jesus guide you.
Wait... What was the question?
Where can I learn more about this way to block domains?
Try this link: The fastest way to get answers about the hosts file
All information on this page expires: Yesterday